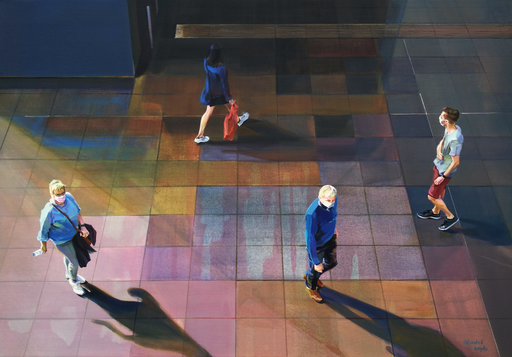 Born in Antwerp, Christel Weyts is a Belgian artist.
Since her teens, she has been drawing, intensively. Especially the facial features of people have always intrigued her.
By now, many years later, she has built up a lot of experience with acrylic paint on canvas and man has still remained as her favorite subject, albeit frequently condensed into an anonymous actor in her works.
Christel likes to observe, discretely, from the sideline. Watching the world, and how man moves itself through that environment. Places where she likes to pass, or places she visits by chance, are photographed by her and later serve as bases for her eventual work.
She chooses to select scenes that really emphasize the aesthetics and the harmony in daily situations. She detains man and his actions with her paint and pencils within the frame of her canvas. A split second, a blink of an eye, is fixed in time and laid out to be calmly explored by the spectator. Generally, the environment wherein everything is displayed is characterized by a prominent presence and interplay of lines.
The natural light, that sometimes literally freezes her in wonder, has a great importance in her work. It allows her the joy of playing with contrasts through the carefully constructed layers of paint on her works.

In 2010 she won the "Atelier Artist Award (2009)" in the Netherlands with her picture of princess Maxima.